What About the US Dollar.....? and Other Currencies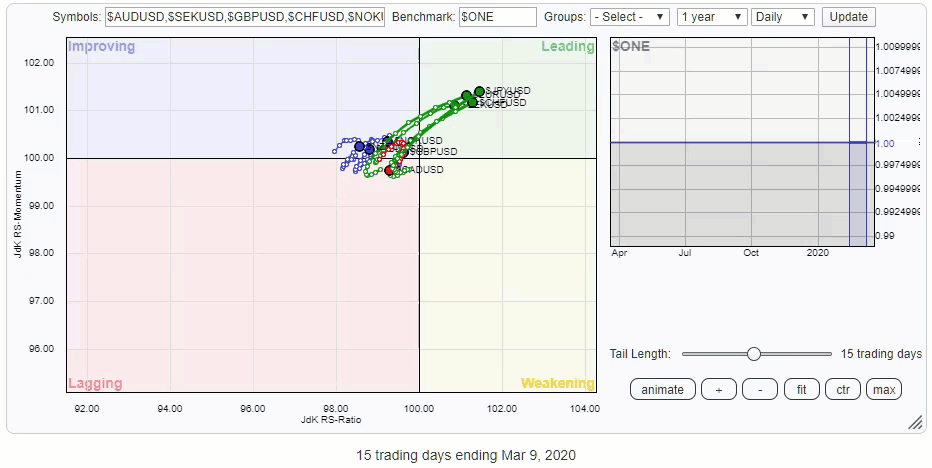 Everybody's looking at the stock market these days, but, in other areas of the market, big shifts seem to be underway as well. One of the areas that I like to keep an eye on is currencies, and Relative Rotation Graphs can help you keep an eye on the moves of multiple currencies against each other.
The graph above shows the rotation for the G10 currencies against the USD. SO, in essence, you will see NINE currencies expressed in USD, which makes the USD the benchmark (venter) of this RRG.
The animation starts at 3/9, when most of the tails are still pointing to the top-right and are traveling towards (or already inside) the leading quadrant. This meant "dollar-weakness." All these currencies were increasing in value against the USD.
Between 11 and 17 March, all these tails rolled over and started to head in a southwestern direction and, with the exception of EUR, CHF and JPY, all are now inside the lagging quadrant and accelerating deeper into it. This means "dollar strength."
The weekly RRG (below) shows that the process of dollar strengthening had already started in the first few weeks of February and that the rotation through leading on the daily chart above was a short "head-fake".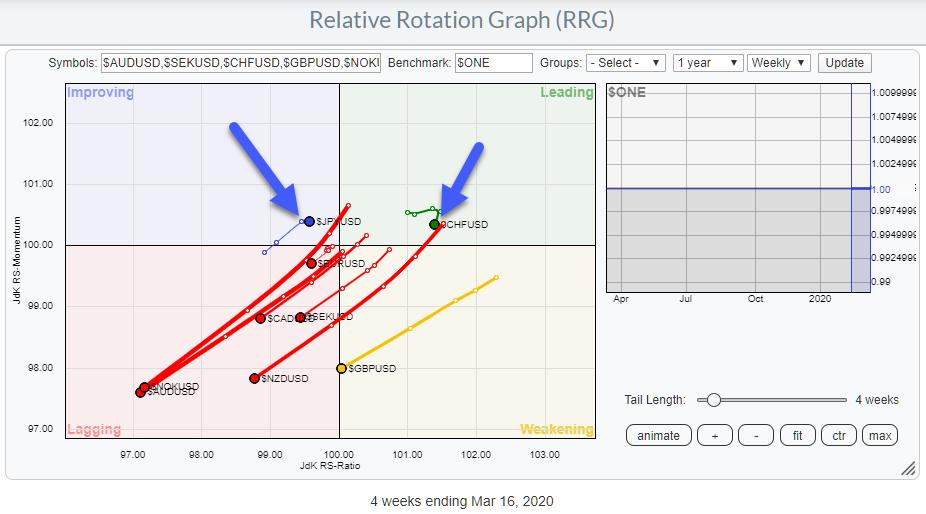 The rapid rotation on the daily RRG now brings the weekly and daily time-frames back in sync; they are pointing to a stronger US dollar in coming weeks.
So far, the Japanese Yen and the Swiss Franc have tried to battle that trend, but their tails look to be starting to roll over as well now on the weekly chart, making the US dollar the strongest currency in the G10.
Finding an Out of The Box Currency Pair (Trade)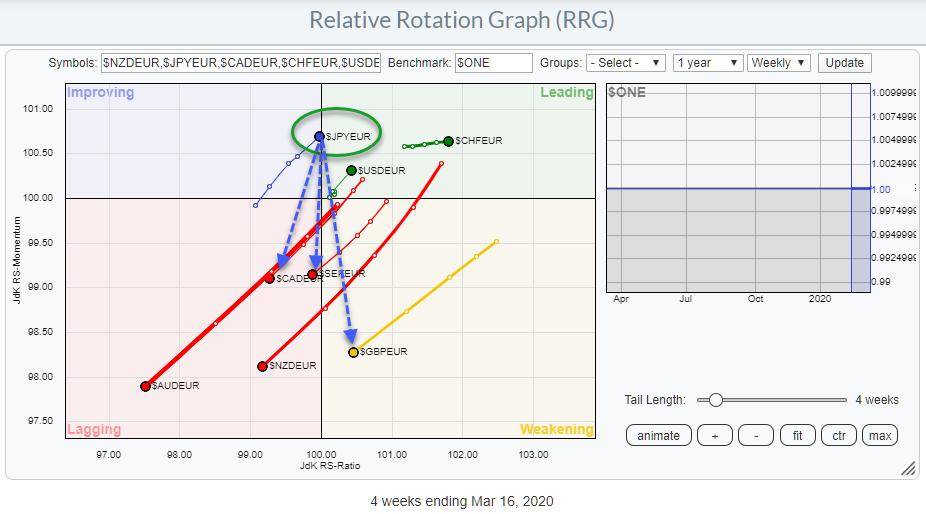 The RRG above also shows the G10 currency universe, but this time with the EUR set as the benchmark for the chart. This gives a different perspective. Still, the US dollar is the strongest currency, as it is starting to accelerate into the leading quadrant.
The CHF is to the right of the USD, but at a lesser acceleration, which suggests that the USD is on its way to overtaking CHF, which we also saw on the USD-based RRG. It's a similar story for JPY, to the left to USD and, as we saw on the USD version, already rolling over vs. USD.
What I wanted to show on this RRG is that it can serve to give you some out-of-the-box trading ideas for (currency) pairs that are less common - more specifically, some JPY crosses.
The tail on $JPYEUR is still at a positive RRG-Heading and about to cross over into lagging. On the opposite side, we see three currencies, CAD, SEK and GBP, that are just crossing (or about to cross) JPY from right (positive) to left (negative). This interaction of the tails make these three crosses worth a look from a trading perspective.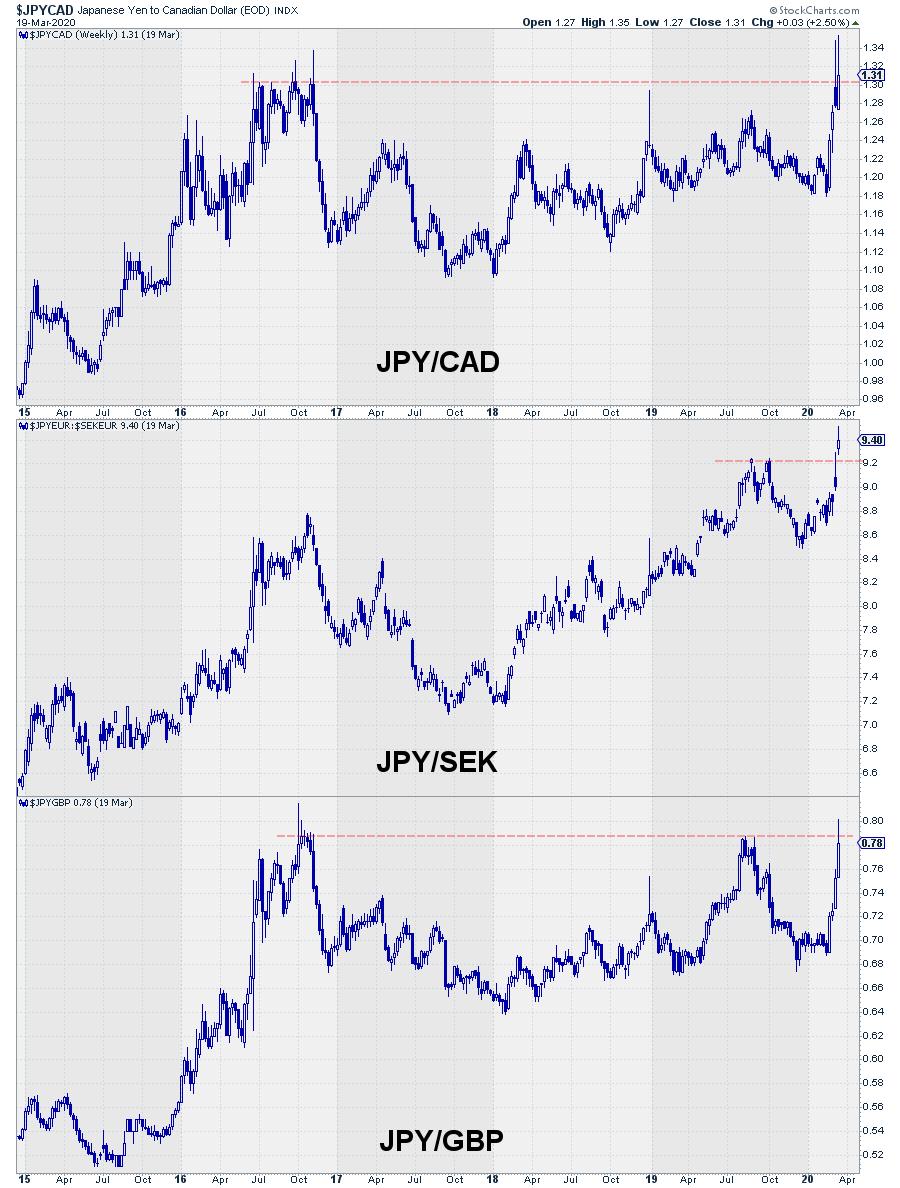 JPY/CAD is struggling with resistance in the 1.30 area; a break will certainly open up the way for more upside potential.
JPY/SEK has already broken its resistance level coming off the previous peak at 9.20 and is now clear to move higher.
JPY/GBP is also struggling with resistance, in this case just below 0.80. Again, a break will very likely trigger more upside for this pair.
From a trading perspective, you could go with the pair that attracts you most, say JPY/GBP or JPY/CAD, as you anticipate a break and want to profit from the expected acceleration. The risk here is that the break may not happen. Or you go with JPYSEK, as it already has broken its resistance. It has already made its first move, but in this case the downside is well-protected (former resistance level) and could serve as a stop-level.
Also, if you want to get a bit more creative, you could split your position size in three and allocate 1/3 to each pair.
There are many different ways to construct a portfolio or a position to benefit from one single view/idea.
BTW: This coming Monday, I will be recording Sector Spotlight for Tuesday 3/24. If you have any suggestions for topics you would like me to cover or any questions you would like to see answered, please drop me a message at the channel of your choice (mail, twitter, fb, etc.)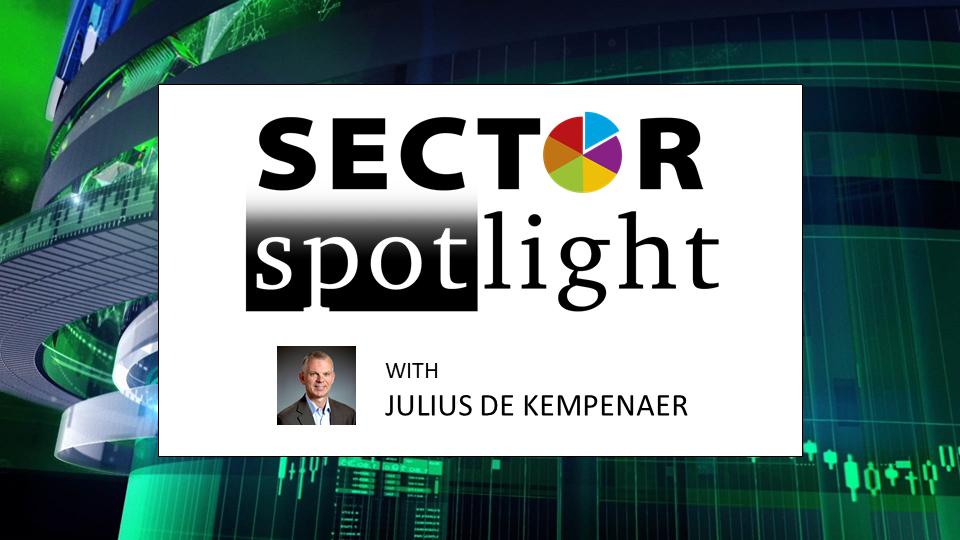 -- Julius #staysafe
Julius de Kempenaer
Senior Technical Analyst, StockCharts.com
Creator, Relative Rotation Graphs
Founder, RRG Research
Want to stay up to date with the latest market insights from Julius?
– Follow @RRGResearch on Twitter
– Like RRG Research on Facebook
– Follow RRG Research on LinkedIn
– Subscribe to the RRG Charts blog on StockCharts
Feedback, comments or questions are welcome at Juliusdk@stockcharts.com. I cannot promise to respond to each and every message, but I will certainly read them and, where reasonably possible, use the feedback and comments or answer questions.
To discuss RRG with me on S.C.A.N., tag me using the handle Julius_RRG.
RRG, Relative Rotation Graphs, JdK RS-Ratio, and JdK RS-Momentum are registered trademarks of RRG Research.
Original author: Julius de Kempenaer
Comments