Using RRG to find some good and some not so good names inside the DJ Industrials index.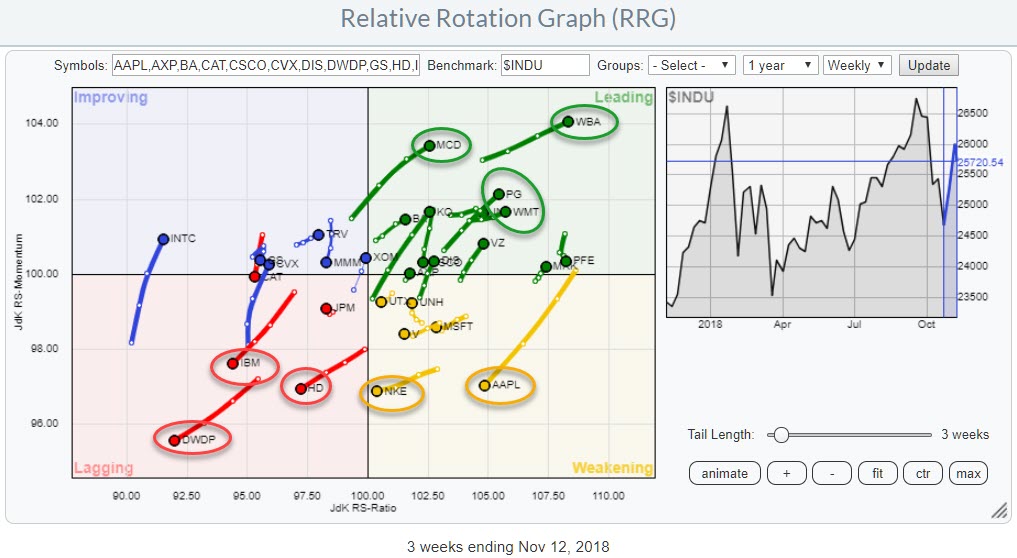 The relative rotation graph above shows the rotation of the 30 DJ Industrials stocks. Watching the interaction on the canvas, a few rotations catch the eye.
Inside the lagging quadrant IBM, HD, and DWDP are clearly moving deeper into negative territory. On the opposite side inside the leading quadrant, we find MCD, WBA, PG, and WMT at strong RG headings moving higher on both axes.
In the weakening quadrant, the most pronounced rotations are visible for Nike and Apple. Both stocks have gone through a strong rotation and are now rapidly losing relative momentum and heading towards the lagging quadrant.
Although the trail of INTC inside the improving quadrant is showing improvement it is still the weakest stock in this universe based on the RS ratio. Therefore the risk of a rotation back towards the lagging quadrant remains a realistic scenario.
Continue reading "Using RRG to find some good and some not so good names inside the DJ Industrials index." »
Original author: Julius de Kempenaer
Comments