NKE Starts Running!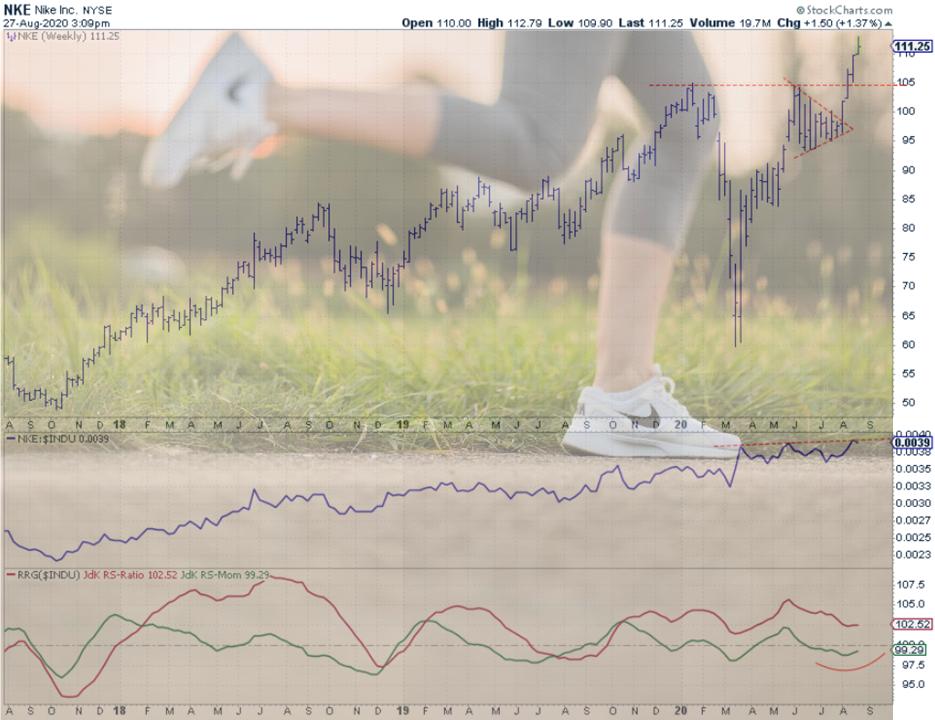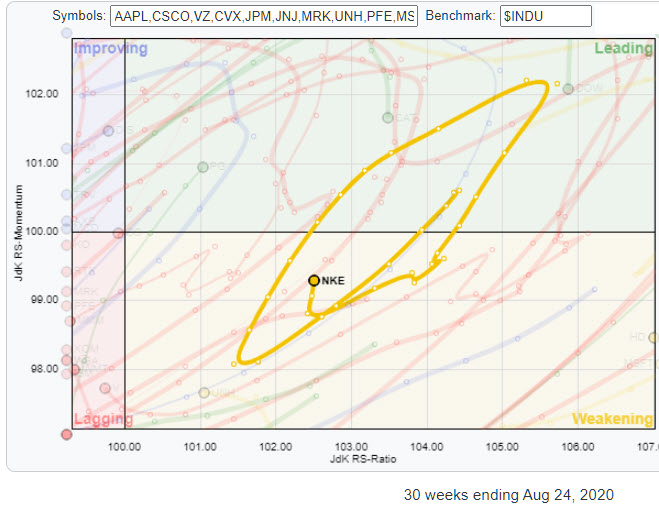 On the weekly Relative Rotation Graph for the DJ Industrials universe, NKE is inside the weakening quadrant after a completed rotation on the right side of the graph (Leading-Weakening-Leading). And over the last few weeks the tail on NKE has again started to curl back up.
These sort of rotations are usually seen in strong relative trends.
The big graph at the top of the article shows the weekly price graph for NKE, in combination with the relative strength line (vs $INDU) and the RRG-Lines.
Back in October 2019 both RRG-Lines crossed above the 100-level. That is when NKE entered the leading quadrant from improving. Since then the JdK RS-Ratio line has managed to remain above 100, indicating a relative uptrend vs the DJ-Industrials index.
The green JdK RS-Momentum line has oscillated above and below 100 a few times in this period. These are the rotations, of which the last one is now visible on the small RRG chart.
On the price chart (click the image to open live version of the chart), NKE has just broken to new highs above the early 2020 peak near $ 105. This break happened after NKE exited from a triangle like formation that played out during June and July.
The sideways move in relative strength since March/April has caused the RS-Momentum line to peak and fall back below the 100-level and push the stock into the weakening quadrant. We are now seeing a slight pick-up of relative strength again which is lining up the tail on NKE for a new push into the leading quadrant.
The price chart is already looking good. What we need now is a break above resistance in relative strength and an acceleration higher to propel NKE into the leading quadrant and becoming a leading stock in the DJ Industrials index.
#StaySafe, --Julius
My regular blog is the RRG Chartsblog. If you would like to receive a notification when a new article is published there, simply "Subscribe" with your email address.
Original author: Julius de Kempenaer
Comments