Defensive Sectors Starting Positive Rotations Again On Daily Relative Rotation Graphs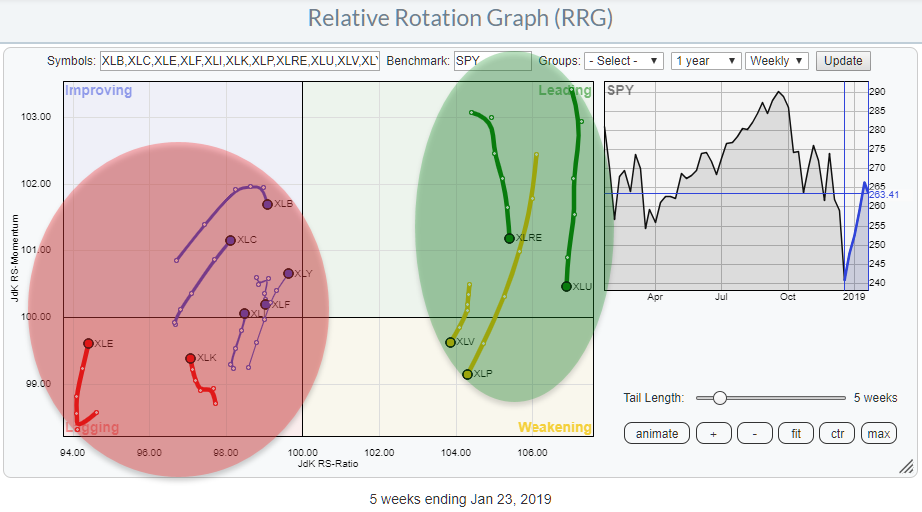 The Relative Rotation Graph for US sectors is showing a split picture. On the right, we have Utilities, Real-Estate, Consumer Staples and Healthcare. With the exception of Real-Estate maybe, these are generally accepted as "defensive" sectors.
All other sectors (7) are positioned to the left of the benchmark (SPY).
Not only is this universe split in terms of Jdk RS-Ratio level, but it is also split in terms of RRG-Heading. All sectors at the right-hand side of the graph are heading lower, primarily on the Jdk RS-Momentum axis and less so in terms of RS-Ratio.
An opposite move is visible at the left-hand side where most sectors are heading higher on the RS-Momentum scale and only marginally on the RS-Ratio scale. The Materials and Financials sectors have already rolled over downward again inside the improving quadrant, making it very hard to complete a rotation towards or into leading.
Continue reading "Defensive Sectors Starting Positive Rotations Again On Daily Relative Rotation Graphs" »
Original author: Julius de Kempenaer
Comments